Sending overseas to Europe? We can send your large items to Bulgaria via our Pallet Delivery and Shipping service at low cost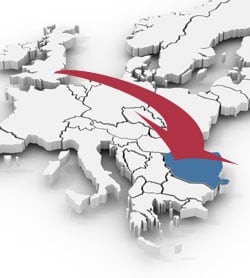 Bulgaria is one of the many European countries we ship pallets to every week. If you're looking for a low cost method of sending your large or numerous items to Bulgari or back to the UK, then we have the solution.
Pallet Delivery is a cost effective and quick way to send goods to and from Bulgaria. You simply package your goods up securely, secure them to the pallet, and we do the rest. You can get an instant price using the form above, then simply book your time slot.
We offer a range of different timed shipping options, along with different pallet sizes. If you dont have a pallet, you can get them locally with ease from most towns, suppliers, or industrial estates (ask your local businesses as they often don't mind giving you one)