Send your packages from the UK to Romania via pallet delivery. We ship items across Europe.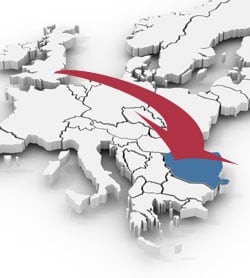 Live in the UK and looking to send package to Romania, or vice versa? This is where our Pallet Delivery service can help. You can now send large items to Romania at little cost, with a speedy and efficient delivery service. Get an instant price for shipping your goods overseas simply by selecting the countries in the form above.
Pallet Shipping is ideal for ebay items, large packages, or multiple items where a normal courier or Post Office service isn't enough or is simply too expensive. With a pallet service, you simply secure your items on the pallet, and we do the rest . We send to other European countries as well as Romania, and our prices are competitive. We have a great reputation on reviews.co.uk as well.
Simply fill in the form for an instant quote and price, then book online.